Panama Canal History & Facts
History of the Panama Canal
One of the Seven Wonders of the World, the Panama Canal is a 51 mile route connecting the Atlantic and Pacific Oceans across the Isthmus of Panama via the Caribbean Sea. This route made it no longer necessary for ships to navigate dangerous waters around the southernmost tip of South America in half the time allowing for a more integrated world economy. The shorter, faster, safer route to the U.S. West Coast and to nations in and along the Pacific Ocean was one of the largest and most difficult engineering projects ever undertaken.
Construction began in 1881 was completed in 1914, but not without a long history of financial mismanagement, political corruption and geological challenges. The French first attempted construction, but were met with the cost and difficulty of building a canal in the rain-soaked tropics through unstable mountains that exceeded expectations, brought human health risks and accidents due to a poorly trained and inexperienced workforce.
In 1890 the U.S. commissioned an engineering panel to study the potential of building the canal and recommended a sea-level canal to President Theodore Roosevelt. The extensive engineering study resulted in recommending a canal using a lock system to raise and lower ships from a large reservoir 85 ft (26 m) above sea level thus creating the world's largest man-made lake. In the end, a canal that operated with an elevated reservoir and a system of three locks to raise ships above sea level to Gatun Lake, and then lower them on the opposite ocean with another set of three locks, was seen as much less expensive, faster to build, and more feasible in design than the original vision of a sea-level canal. In 1904, the United States bought the French equipment and excavations and began work on the Panama Canal on May 4. Most recently, it was given over to the Panamanian government in 1999.
Gatun Lake is used to reduce the amount of work required for a sea-level connection with locks at both ends to lift ships. The two current locks are 110 feet (33.5 m) wide with a third currently under construction, and will be accompanied by nine water reutilization basins. These gravity-fed basins will allow 60% of the water used in each transit to be reused; the new locks will consequently use 7% less water per transit than each of the existing lock lanes. The deepening of Gatun Lake and the raising of its maximum water level will also provide significant extra water storage capacity. These measures are intended to allow the expanded canal to operate without the construction of new reservoirs. These new locks will allow many larger vessels to travel the Panama Canal and are expected to open in 2015.
Current Locks
Size- 1000' x 110' x 42'
Locations:      
Gatun Locks – 3 steps and 6 chambers
Pedro Miguel – 1 step and 2 chambers
Miraflores – 2 steps, 4 chambers
Water Flow-  Using gravity, down and across chambers
Panamax Ship-  965' x 106' x 39 ½'
Maximum Cargo-  4400 TEUs/container ship
Gates-  4 or more miter gates swing per chamber
Water-  52 million gallons lost to sea per transit
New Locks
Size-  1400' x 180' x 60'
Locations:      
Gatun East-  3 steps, 3 chambers, 9 basins
Miraflores West-  3 steps, 3 chambers, 9 basins
Water Flow-  Using gravity, down and across holding basins
Post Panamax Ship-  1200' x 160' x 50'
Max Cargo-  12600 TEUs/ container ship
Gates-  2 each 200' wide (one piece rolling gates on tracks)
Water-  60% recycled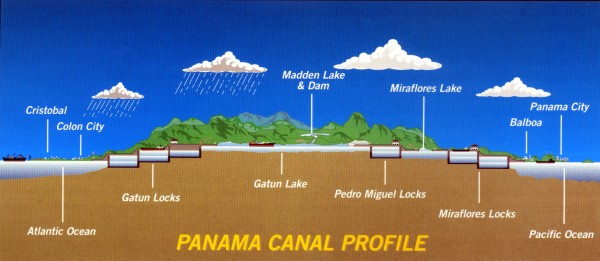 Interesting Facts 
Ships traveling between New York and San Francisco save 7,872 miles by using the Panama Canal instead of going around Cape Horn.
The Atlantic entrance to the Canal is 22-1/2 miles west of the Pacific entrance.
More than four and half million cubic yards of concrete went in to the construction of the locks and dams.
Material originally excavated to build the Canal were put on to a train of flat cars, it would encircle the world four times.
The locks of the Panama Canal are seven feet thick.
On February 29, 1968 was the most transits on a single day with an amount of 65 ships crossing the isthmus.
More than 60,000,000 pounds of dynamite was used to excavate and construct the Panama Canal.
In 1963 the Panama Canal for the first time starts operating 24 hours, thanks to the introduction high mass fluorescent lighting.
In 1520, King Charles of Spain was the first to suggest the construction of a canal.
More than 5,000 more people died from yellow fever before the Canal was opened in 1904.
68% of the traffic that passes through the Panama Canal comes from or is headed toward the U.S.
Quick Reference
First ground broken by French January 1, 1880
Amount of money spent by the French: $260,000,000
Amount United States paid French for their rights and property $40,000,000
Canal Zone acquired by U.S. from Panama by treaty February 23, 1904
Amount United States paid Panama for Canal Zone: $10,000,000
Rental paid by U.S. to Panama beginning in 1913 per annum: $250,000
Work began by the United States May 4, 1904
First ship through the Canal September 26, 1913
Date of official opening August 15, 1914
Name of first official ship to transit canal: S.S. Ancon
Canal Zone in square miles: 436
Length of Canal from Atlantic to Pacific: 51 miles
Width of the Canal Zone: 10 miles
Time to transit Canal: 8-10 hours
Number of ships crossing daily: 40
Number of ships crossing each year: 12-15,000
Time of passage through locks: 3 hours
Amount of water filling each lock: 52 million gallons
Gatun Lake level is controlled at the Gatun Dam both through a hydropower generating plant and over spillways at the dam.
Total concrete for canal in cubic yards: 5,000,000
Can't find what you are looking for?
For any other service which is not listed, you can always contact us any time you want, and surely we can provide you with the best, even if is not listed in our website. Give us a call or send us an email, either way you will get a timely response and the best option for your needs. Find our contact information here.