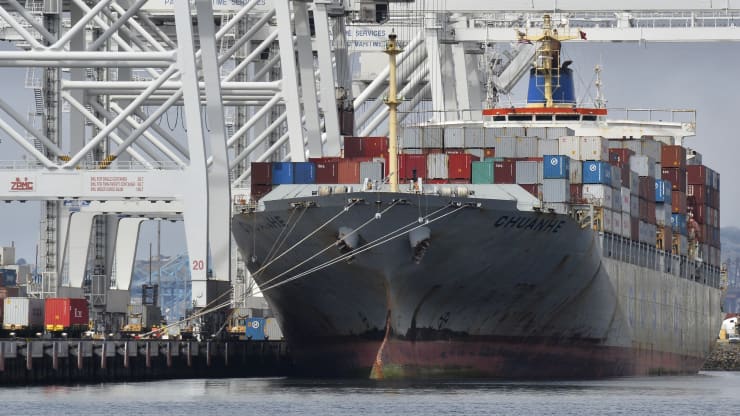 Millions of dollars in rejected trade Carriers rejected an estimated 177,938 containers known as TEUs (20-foot equivalent units) in October and November, according to analysis of data compiled from the Census Bureau and the ports of Los Angeles, Long Beach, California, and New York and New Jersey.
Shipping carriers rejected U.S. agricultural export containers worth hundreds of millions of dollars during October and November, instead sending empty containers to China to be filled with more profitable Chinese exports, a CNBC investigation found.
John Martin MARTIN ASSOCIATES When reviewing the import and export data from January 2020 to November, CNBC found the pattern of this growing U.S. export container deficit started as early as June for Los Angeles, July for Long Beach, and August for New York and New Jersey.
To calculate the value in the potential lost trade as a result of the rejection of agricultural exports, CNBC used the Port of Los Angeles containerized agricultural export price for soybeans/oilseeds/grains, which can be found on the U.S. Census, USA Trade Online site.
According to port trade data, the total export container deficit for the ports of Long Beach and Los Angeles was 136,392 TEUs.
This data suggests particularly the Los Angeles, Long Beach argument that empty export containers were being moved as quickly possible, leaving U.S. export cargo on the docks." This underscores our continued dependency on China.
"Compared to the same months in the previous time periods, there is a clear increase in the ratio of empty export containers to total exports," said Martin.
The act makes it unlawful for carriers to "unreasonably refuse to deal or negotiate," "boycott or take any other concerted action resulting in an unreasonable refusal to deal," or "engage in conduct that unreasonably restricts the use of intermodal services." The export container refusals came as U.S. agriculture exports were entering their peak season.
The commission, in turn, launched an investigation and is reviewing the trade data out of key ports in California, New York and New Jersey to see whether the carriers' refusal to load U.S. export cargo was a violation of the Shipping Act.
In mid-October, carriers notified agricultural exporters that they would prioritize empty export containers over agricultural exports.
From July through November, a total of 297,997 TEUs were denied out of the ports of Los Angeles, Long Beach, and New York and New Jersey a container deficit value of $1.1 billion.
"This formula shows you the increased ratio of empty export containers to total exports.
"These estimated TEUs are the empty exports that should have been filled in 2020," said John Martin, manager of the economic and transportation consulting firm Martin Associates, who verified CNBC's findings.
"This underscores our continued dependency on China." Three in 4 containers from the U.S. to Asia are "going back empty," according to Redwood Logistics CEO Mark Yeager, who supported the findings of CNBC's analysis.
The total value lost export trade from those ports is $632 million.
RESOURCE: cnbc.com