Mitsui OSK Lines (MOL) has brought a giant this 27 of March, 2017. A 20,170 teu and 400m loa vessel, the largest containership of the world, so far, has been delivered by Samsung Heavy Industries Co. The "MOL Triumph", first of six sisters ships of 20,000 TEU-class, came along with several alternatives for compliance with the global 0.5% fuel sulphur which will take effect on 2020. The ship has been built with the capability for conversion to LNG fueled operations according to its owner MOL.
Two other vessels will be delivered by Imabari Shipbuilding, and the other three vessels will be built by Samsung Heavy Industries, serving the Asia to Europe trade.
The owner also reported that feasibility studies are being conducted into the use of gas fuel and exhaust gas cleaning, or scrubbers. Quoting the President and CEO of MOL, Junichiro Ikeda, — "The MOL Group is honored to unveil this new vessel, which is the largest containership in the world. The vessel is equipped with various new sustainable technologies to provide more efficient fuel consumption and improved environmental performance". If the gas option is taken, the vessel's main engine will need to be converted to an ME-GI gas injection engine and a fuel gas supply system, plus gas fuel tanks installed, and as it was clearly stated, the vessel has been designed to accommodate these retrofit options.
There are other energy-saving features included to reduce fuel consumption and CO2 emissions per container moved by 25-30% compared to 14,000 teu vessels. Also, low friction underwater paint, a full spade twisted rudder and bulb that ensures energy recovery from the slipstream of the high efficiency propeller, while a rectifier fin optimizing the flow of water into the propeller is anticipated to generate fuel savings of up to 2%. Design refinements are expected to provide a 4.5% gain in efficiency, while the use of a low-friction hull coating will reduce drag.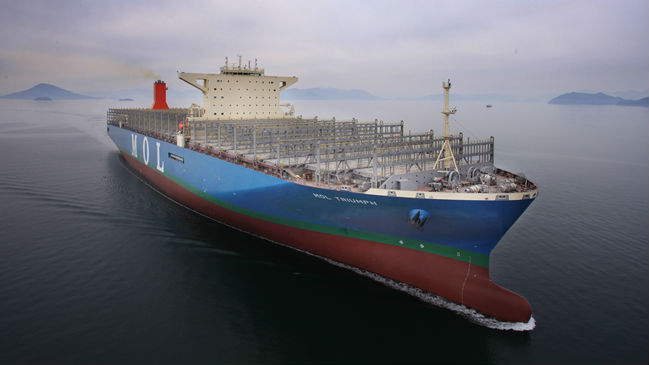 Ship Particulars:
Length : 400 m
Depth : 32.8 m
Breadth : 58.8 m
Dwt: 192,672 MT
MOL Triumph will be performing its maiden voyage from Xingang in April 2017 and will sail to Dalian, Qingdao, Shanghai, Ningbo, Hong Kong, Yantian and Singapore. Then, it will be transiting the Suez Canal and will keep moving on to Tangier, Southampton, Hamburg, Rotterdam and Le Havre. Finally, it will be calling at Tangier and Jebel Ali on the way back to Asia.
Stay ahead and keep track of the news section we have for you. Soon we'll have interesting news about the second sister ship to be delivered by MOL and SHI in May, 2017.